IMAGING TECHOLOGIES
Diffuse Optical Imaging
Visit the Martinos Optics Division website
What is it? What does it measure?
If you shine a flashlight onto your hand, you can clearly see that light can travel through centimeters of tissue and still be detected. Can this light be used to "see," or image, inside the body? Recent advances in our understanding of light migration through tissue, the resulting development of tomography algorithms and subsequent experimental verification in phantom systems have shown that imaging with diffuse light - diffuse optical imaging (DOI) - is in fact possible.
Diffuse optical imaging measures changes in hemodynamics, such as changes in blood volume and in blood oxygenation and thus can contribute a wide variety of applications. In the brain, for example, it can detect and localize important events such as ischemic/hemorrhagic stroke or hyper-/hypoxia. In addition, it can detect and localize vascular responses to brain activation. Because a tight coupling exists between vascular and metabolic responses, these measurements can reveal much about the latter, and may even provide some clues as to the underlying neural responses.
Furthermore, several groups are currently exploring the potential of DOI for optical breast imaging. Here, the technique can reveal changes in blood volume and oxygen saturation that are specific for early stages of cancer. Because it focuses on these functional changes, DOI can, in theory, identify cancers before they are structurally evident (i.e., visible on X-ray or discernable by palpation).
Imaging of small animals affords additional opportunities to utilize optical contrast. For example, using animals with open or thinned skulls, it is possible to directly visualize changes in absorption in the brain with charge-coupled device (CCD) cameras, yielding images of hemodynamics with higher spatial resolution than DOI. At the same time, DOI techniques can be used to enhance the depth resolution of these measurements, on scales of hundreds of microns. Moreover, investigators can image fluorescent contrast in small animals, due to intrinsic or exogenous fluorophores, to reveal targeted lesions or metabolic information.
How does it work? What equipment is needed?
Diffuse optical imaging at depths greater than a centimeter is made possible by the relationship of the absorption spectra of water, oxygenated hemoglobin (HbO) and deoxygenated hemoglobin (Hb), the three primary absorbers in tissue at near-infrared wavelengths. The water spectrum at these wavelengths serves as a sort of spectral "window" in the background absorption that allows us to "see" the hemoglobin. Therefore, by shining NIR light on the scalp and placing a detector on the scalp a few centimeters away, changes in the amount of light reaching the detector can be measured that correspond to changes

in absorption in the region below and between the source and detector. With appropriate choices of wavelength, two important events will alter this light amplitude signal: (1) a change in blood volume, or (2) a change in blood oxygenation. Such measurements suggest a variety of applications of DOI.
DOI systems can consist of little more than a probe with fiber-optic sources and detectors, a piece of dedicated hardware about the size of a small suitcase and a laptop computer. Systems can be much larger, depending primarily on the type of laser source employed, but the approach generally offers a degree of portability unobtainable with many other modalities. For this reason, looking into the future, DOI may be ideally suited for clinical applications such as bedside monitoring of cerebral oxygenation.
What do the data look like?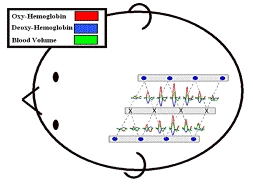 DOI data consists of a series of time-dependent signals measured between individual light source and detector positions on a probe. The concentrations of oxy, deoxy, and total hemoglobin can be calculated for each source-detector pair. These time-courses may often represent the subject's averaged hemodynamic response to repeated stimuli or tasks, such as sensory stimuli or motor responses. This data is often displayed topographically according to the positions of sources and detectors used. Probes are often designed specifically to study a particular region of the brain.
To reconstruct images of the hemodynamic signals from the discrete measurements between source and detector pairs, we must model the ways in which light, entering the head from a source position, travels through the brain and is detected as it exits. The average path of light between each source and detector position tells us the sensitivity of that source-detector pair to changes in the absorption and scattering properties within the volume of brain traversed by this light. By taking a series of over-lapping measurements between differing source and detector positions, and knowing the sensitivity profile of each of these measurements, we can reconstruct an image of the underlying hemoglobin changes in the brain.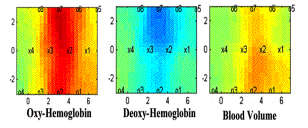 To reconstruct images of the hemodynamic changes in the brain, we often make several simplifications to model the migration of light through the head. The simplest model that we can make is to assume the head is a flat surface with constant optical properties. Although this is a drastic simplification from the complex structure of the real head, the method works fairly well as a first-approximation. The method is also easy since an exact mathematical solution describing the migration of light through such a flat slab of material is known. The images shown here are the reconstructions of the hemodynamic changes using such a model and back-projection methods.
However, to properly model the migration of light through the head, we must have some knowledge of the optical properties and complex structure of the various layers of the head (i.e. skin, skull, brain, etc). For this we often use anatomical MRI information gathered for each subject. These images can be segmented into the various tissues types. Then, using the bulk properties for the baseline scattering and absorption of each tissue, we can employ Monte Carlo techniques to simulate the migration of light through the brain. This provides a much more accurate estimate of the sensitivity profile between each source and detector. However, it is computationally expensive and possible only for subjects for whom anatomical MRI information is available.
Even with such anatomical information, though, the resulting reconstructions are often non-unique. This is because one often tries to reconstruct the hemoglobin changes for many volume regions, more than the number of measurements taken. This results in an under-determined mathematical problem. For this reason, the accuracy of DOI reconstructed images often depends on the mathematical "tricks" that one uses to solve the under-determined problem.
We are currently investigating an approach to this problem that attempts to combine the advantages of DOI—the availability of hemoglobin oxygenation information and a higher temporal resolution—with the higher spatial resolution of functional MRI (fMRI). Standard fMRI methods measure only deoxy-hemoglobin, but with a higher spatial accuracy than DOI, so this spatial information can be used to guide the DOI image reconstruction, thus providing a quantitatively more accurate image of the hemodynamic response. We often perform simultaneous DOI and fMRI measurements to investigate these relationships. In addition, we are working on methods to fuse fMRI and DOI information in a statistical way by solving for the hemodynamic response that maximizes the probability of having obtained both types of measurements simultaneously. These multi-modality approaches are still active areas of research, but show promise for further unraveling the details of the hemodynamic and metabolic changes in the brain associated with activity.
Temporal resolution
~ One millisecond
Spatial resolution
One millimeter - one centemeter
What are some features/benefits of DOI?
The primary attractions of optical recording over other imaging methods include (1) simplicity, (2) low cost, (3) portability, (4) rapid data acquisition, and (5) spectroscopy. For ease of construction and use, a minimalist optical recording device consists of a single light source, a single light detector, and an analog-to-digital (A/D) converter. Each of these items is relatively inexpensive, and an entire instrument consisting of multiple sources and detectors can easily be packaged in a space less than half the size of a portable computer. Moreover, the speed with which light travels through tissue—even with strong tissue scattering—allows for very rapid measurements (>1000Hz sample rates, much better than PET or fMRI). And use of more than one laser source allows for spectroscopic measurements at these same, fast acquisition rates.
What are its limitations?
Diffuse optical imaging has already contributed to a number of studies. However, there is still a need for more overlapping measurements and measurements of baseline optical properties. Furthermore, because it has relatively low spatial resolution, the technique might also benefit from structural, anatomical guidance. Such guidance can be obtained by combining DOI with modalities with high spatial resolution–MRI, for example.
Research and clinical applications
Since the late 1990s, an increasing number of researchers have used DOI in brain mapping studies, as well as in studies of clinical applications related to brain function. The former have used visual, auditory and somatosensory stimuli to identify areas of the brain associated with certain cognitive functions; other areas of investigation include the motor system and language. The latter have addressed the prevention and treatment of seizures and psychiatric concerns such as depression, Alzheimer's disease and schizophrenia, as well as stroke rehabilitation.
Several groups are currently exploring the potential of DOI for optical breast imaging. Here, the technique can reveal changes in blood volume and oxygen saturation that are specific for early stages of cancer. Because it focuses on these functional changes, DOI can, in theory, identify cancers before they are structurally evident (i.e., visible on X-ray or discernable by palpation). In addition to potential detection of cancers, diffuse optical imaging offers a means to explore the physiology of the breast. For example, the literature includes studies on changes in the optical properties associated with age, exogenous hormone levels and menopausal status—as well as, to a lesser extent, fluctuations in menstrual cycles. Because the technique is inherently sensitive to blood, water and adipose, the principal components of the breast, and because the optical properties of each of these components are strongly dependent on age, exogenous hormone levels and menopausal status, it is capable of providing physiological information not available through any other noninvasive means.
Because of its enhanced spatial resolution, with respect to diffuse optical imaging in humans, and because of the diversity of studies possible when using animals, imaging of small animals can provide researchers with greater understanding of hemodynamic and metabolic changes that underlie functional activation as well as provide an excellent platform for studying disease states and for drug development. For example, imaging of fluorescent contrast due to intrinsic or exogenous fluorophores can isolate specific lesions such as Alzheimer's plaques or tumors, and thus provide insight into their pathologies.
by G. Boas, updated 01/2005