IMAGING TECHOLOGIES
Molecular Imaging
What is Molecular Imaging?
Molecular imaging is a novel field which combines the global anatomical/physiologic scale of currently available in vivo imaging modalities with the detailed molecular/cellular scale of biochemistry and cell and molecular biology in order to obtain a visual representation and characterization of biological processes at the cellular/sub-cellular level in living subjects. As such, molecular imaging represents a multidisciplinary effort exploiting the convergence of image-capture techniques, basic cell/molecular biology, chemistry, medicine, pharmacology, medical physics, biomathematics, and bioinformatics into a new imaging paradigm.This approach has the potential to allow the unraveling of complex disease pathways, the diagnosis of disease at the earliest causative stages, characterized by the first signs of metabolic or molecular disturbance, and the noninvasive real-time monitoring of disease progression as well as response to therapy in authentic physiologic environments.
What is the sequence of steps in a molecular imaging experiment?
A typical imaging experiment begins with target selection, i.e. a molecular marker characterizing a particular biological process. Target identification is followed by the development of an imaging probe which is selective for that target, e.g. receptor ligand or enzyme substrate. In addition to a target-specific affinity component, molecular imaging probes typically also include a signaling component that is useful for imaging, e.g. 18F, 11C, 99mTc for radionuclide imaging, a fluorochrome for optical imaging, a paramagnetic atom, such as gadolinium, for magnetic resonance imaging.
Since molecular imaging relies on in vivo data acquisition, the successful delivery of imaging probes to selected targets is an important goal. Adjustment of the pharmacokinetic properties of imaging probes and the development of rational protocols for their administration are necessitated by the presence of significant in vivo delivery barriers, i.e., vascular, interstitial, or cell membrane. Furthermore, the application of chemical or biological signal amplification strategies is essential for the success of a molecular imaging experiment, especially in cases in which target availability per cell is limited (a typical cell carries only 10-1000 copies of a particular mRNA molecule). A good example of a biological signal amplification strategy is the use of a labeled substrate specific for a given enzyme. The final step of a molecular imaging experiment is image acquisition and analysis. For that purpose, it is important to carefully select an imaging modality or combination of modalities appropriate for the chosen target/probe combination.
What are the currently available imaging modalities with relevance to molecular imaging? What do the data look like?
Presently, five imaging modalities have been adapted for applications relevant to molecular imaging: radionuclide imaging, that includes positron emission tomography (PET) and single photon emission tomography (SPECT), optical imaging (bioluminescence and fluorescence), magnetic resonance imaging (MRI), computed tomography (CT), and ultrasound (US).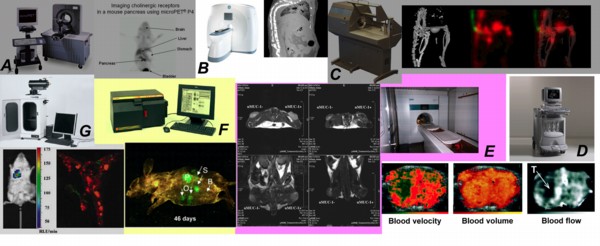 Typical instruments and images representative of each imaging modality with relevance to molecular imaging. (A) PET: instrument and a whole-body coronal image of a mouse injected with the cholinergic radioligand [18F]4-fluorobenzyltrozamicol (FBT), which binds to the presynaptic vesicular acetylcholine transporter. The pancreas is intensely FBT avid due to its heavy innervation. (Clark et al., 2004). (B) CT: instrument and a whole-body coronal image of a mouse at a resolution of 50mm. (C) SPECT/CT: instrument and coronal imageof the pelvic region of a mouse. This mouse had a broken femur. Vascular endothelial growth factor (VEGF) was infused though a catheter directly to the femur as a therapeutic agent for bone regeneration. To produce these images, iodinated VEGF was infused to monitor the drug delivery and 99mTc MDP was injected to assess bone regeneration. The volume rendered CT image is shown on the left, the dual isotope SPECT image is on the right, and the fused image is in the middle. VEGF (I, 27 keV) is shown in green, and MDP (99mTc,140 keV) in red. (Iwata et al., 2002). (D) Contrast Enhanced Ultrasound (CEU): instrument and axial images of rat brain. CEU was performed on rat brains implanted with malignant gliomas using microbubbles targeted to alpha(v)beta3 by surface conjugation of echistatin. CEU perfusion imaging with nontargeted microbubbles was used to derive tumor microvascular blood volume and blood velocity. (Ellegala et a., 2003). (E) MRI: instrument and coronal and transverse T2-weighted images of a mouse bilaterally implanted with a uMUC-1-positive and a uMUC-1-negative human tumor. The specific accumulation of the uMUC-1-targeting superparamagnetic contrast agent, CLIO-EPPT, is manifested by the reduction in T2 relaxivity in the uMUC-1-positive tumor. Both pre-contrast and post-contrast images are shown. (Moore et al., 2004). (F) Optical reflectance fluorescence imaging: inastrument and an external whole-body image of a mouse implanted with GFP-expressing pancreatic carcinoma. The GFP-expressing tumor cells have spread to various sites. Splenic (S), omental (O), and bowel (B) metastases are easily visualized. (Bouvet et al., 2002). (G) Optical bioluminescence imaging: instrument and an image of a mouse after systemic injection of the firefly luciferase-expressing, prostate-specific adenoviral vector, AdPSE-BC-luc. There is signal coming from lung metastases. Left panel shows the image at 12 d after injection. Right panel shows a lung section stained positive using anti-cytokeratin (red/orange) visualized in confocal microscopy. (Adams et al., 2002).
What are the main features of the currently available molecular imaging modalities? What are their advantages and disadvantages?
When selecting an imaging modality, one has to consider: its spatial and temporal resolution, its depth penetration, the availability of injectable/biocompatible molecular probes, and the respective detection threshold of probes for a given technology. Massoud and Gambhir (2003) provide an excellent outline of some of the general characteristics of the currently available imaging modalities. Click here to view their table.
References:
Clark, P. B., Gage, H. D., Brown-Proctor, C., Buchheimer, N., Calles-Escandon, J., Mach, R. H., and Morton, K. A. Neurofunctional imaging of the pancreas utilizing the cholinergic PET radioligand [18F]4-fluorobenzyltrozamicol. Eur J Nucl Med Mol Imaging, 31: 258-260, 2004.

Iwata, et.al. Presented at the 49th Annual Meeting of the Society of Nuclear Medicine, June 16-19, 2002, Los Angeles, CA.

Ellegala, D. B., Leong-Poi, H., Carpenter, J. E., Klibanov, A. L., Kaul, S., Shaffrey, M. E., Sklenar, J., and Lindner, J. R. Imaging tumor angiogenesis with contrast ultrasound and microbubbles targeted to alpha(v)beta3. Circulation, 108: 336-341, 2003.

Moore, A., Medarova, Z., Potthast, A., and Dai, G. In vivo targeting of underglycosylated MUC-1 tumor antigen using a multimodal imaging probe. Cancer Res, 64: 1821-1827, 2004.

Bouvet, M., Wang, J., Nardin, S. R., Nassirpour, R., Yang, M., Baranov, E., Jiang, P., Moossa, A. R., and Hoffman, R. M. Real-time optical imaging of primary tumor growth and multiple metastatic events in a pancreatic cancer orthotopic model. Cancer Res, 62: 1534-1540, 2002.

Adams, J. Y., Johnson, M., Sato, M., Berger, F., Gambhir, S. S., Carey, M., Iruela-Arispe, M. L., and Wu, L. Visualization of advanced human prostate cancer lesions in living mice by a targeted gene transfer vector and optical imaging. Nat Med, 8: 891-897, 2002.


by A. Moore, updated 02/2005