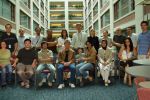 The Optics Division at the Athinoula A. Martinos Center for Biomedical Imaging is exploring new ways to investigate the brain and breast non-invasively and without using harmful, ionizing radiation. The group is working to develop the optical imaging technology as well as apply it for a wide range of basic science and clinical studies. Ultimately, these studies could contribute to better understandings of how the brain works as well as improved screening and detection of a variety of pathologies.
---
April 5, 2013: A Biomedical Optics Express paper by Abbas Yasseen and colleagues was recently spotlighted by OSA and covered by MedicalPhysicsWeb.Congratulations to Abbas!
April 2, 2013: The Optics Division is excited to announce the 2013 Functional Near Infrared Spectroscopy (fNIRS) Course. Details and registration information can be found here.
March 13, 2013: Our very own Qianqian Fang now has two papers in the Top 10 downloads for Biomedical Optics Express. Congrats, Qianqian!
November 13, 2012: Canon U.S.A. has announced collaborative research agreements with Massachusetts General Hospital and Brigham and Women's Hospital to develop biomedical optical imaging, medical robotics technologies and more. The collaboration will involve researchers from the Martinos Center Optics Division among others from MGH and BWH. Read more about it here.
May 16, 2012: See a new Photonics.com blog post about navigating the tricky terrain of conducting and publishing research. Dr. Boas suggested the heading, Required Reading: The Politics of Research. In any event, a few insights gleaned over the years ...
April 28, 2012: The Optics Division lands in Miami ...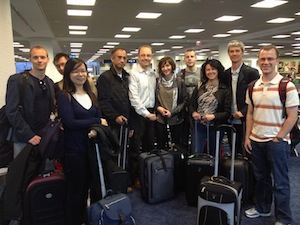 April 26, 2012: We are currently advertising for a Research Fellow in Multimodal Optical Imaging of Breast Cancer. See here for additional information.
February 14, 2012: We were so excited about the news generally, we forgot to post it here: David Boas, director of the Optics Division, was recently promoted to full professor at Harvard Medical School. Congratulations, David!
January 12, 2012: We're finally getting around to sending out our holiday cards. Happy New Year, everyone!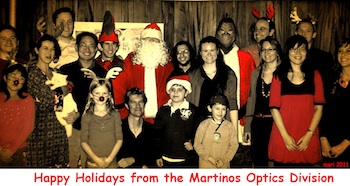 ---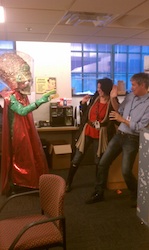 November 1, 2011: Another Halloween, another invasion from Mars. We're happy to report, though, that the Optics Division successfully warded off the attack. (Photo to the right. Click on the thumbnail to view the full-size image.)
October 17, 2011: The Optics Division's Mathieu Dehaes has been awarded a grant by the Goldenson Funds distributed by Harvard Medical School. Congratulations to Mathieu!
October 6, 2011: The Royal Society has posted audio of talks from 2010 meeting "Making light work: illuminating the future of biomedical optics. These include a discussion led by David Boas, "Future meetings for developers and users of biomedical optics technologies." To download the audio, visit this page and scroll to roughly halfway down.
September 21, 2011: Anand Kumar's R01 grant proposal, "Fluorescence lifetime tomography of tumor physiology in small animals," has been funded. Congratulations to Anand!
August 9, 2011: Qianqian Fang's "Mesh-based Monte Carlo method using fast ray-tracing in Plücker coordinates" was one of the top downloaded articles in Biomedical Optics Express in July.
July 26, 2011: The Optics Division is pleased to announce that the second biennial functional Near-Infrared Spectroscopy (fNIRS) conference will be held in London 26-28 Oct. 2012.
June 13, 2011: CRC Press has published Handbook of Biomedical Optics, edited by Optics Division director David A. Boas with Constantinos Pitris and Nimmi Ramanujam.
May 4, 2011: HealthImaging.com has posted an article about the cooperative research grant recently awarded to Qianqian Fang by the Massachusetts Life Sciences Center.
April 29, 2011: Qianqian has also been awarded a grant by the Bill & Melinda Gates Foundation, one of 88 grants to explore bold and largely unproven ways to improve global health, representing the sixth round of funding from Grand Challenges Explorations. Read about the grants here (Qianqian's proposal is third from the top).
April 7, 2011: Children's Hospital has produced a video about Optics Division collaborator Ellen Grant's work with the developing brain, including measurements with near-infrared spectroscopy. Watch the video here:
April 27, 2011: Qianqian Fang has been awarded a cooperative research grant by the Massachusetts Life Sciences Center, the quasi-public agency running the state's 10-year, $1 billion life sciences initiative. Read the press release, or check out today's article in Mass High Tech News.
March 31, 2011: Work by Vivek Srinivasan and colleagues - on using doppler OCT to measure cortical cerebral blood flow measurement - is highlighted in the February issue of BioPhotonics, in an article entitled "OCT Branches Out."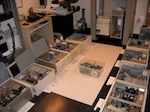 March 14, 2011: We have retired a number of computers after 10 years of loyal service. A thumbnail photo of the computers is to the right.
December 20, 2010: A paper by Qianqian Fang and colleagues - "Combined Optical and X-ray Tomosynthesis Breast Imaging" - will be featured on the cover of the January issue of Radiology. View the cover here.
December 15, 2010: David Boas and Andrew Dunn's Journal of Biomedical Optics paper "Laser speckle contrast imaging in biomedical optics" has been the top biomedical optics download at SPIE for the past several months. Check it out here.
December 8, 2010: We're revamping the website here at the Photon Migration Lab. More pages should be online soon.
November 24, 2010: The optics community lost a friend last week. Britton Chance, a giant in the field, died on Tuesday, November 16. Read about Dr. Chance's life and work here. Or visit the Britton Chance memorial website here.
November 10, 2010: The Optical Imaging Lab's work developing a combined optical/x-ray imaging system capable of obtaining both structural and functional information of the breast, which is reported in the online edition and January issue of Radiology, has been highlighted by several media outlets, including CBS Boston, HealthImaging.com, Ivanhoe and MedPage Today (RSNA has collected the media references here). The work is a collaborative effort with Dr. Daniel Kopans and colleagues at the Breast Imaging Center at MGH. Read the abstract here.
September 2, 2010: Sakadzic et al.'s recent Nature Methods paper is the subject of a News and Views article in the same issue. Check it out: Dirnagl, U. "Oxygen maps in the brain." Nat Methods 7(9):697-699.
August 9, 2010: Optics Division investigator Vivek Srinivasan and colleagues at ThorLabs Inc. and MIT have published an article in the SPIE Newsroom: Doppler optical coherence tomography for imaging of brain hemodynamics.
August 8, 2010: Sakadzic et al.'s Nature Methods paper, " Two-photon high-resolution measurement of partial pressure of oxygen in cerebral vasculature and tissue," has been published online. Nature Methods issued a press release about the paper. We've reproduced it here.
COSMOS magazine has already written about the study. Read the article here.
---