High Field Phased Array Coils
We have developed an RF receiver coil array for carotid bifurcation imaging on a 3 Tesla whole body scanner that demonstrates increased signal to noise ratios and spatial resolution compared to the standard protocol for carotid imaging at 1.5 Tesla. The coil design shown below in Figure 1, a dual array pair with 6 cm diameter loops with a 2 cm overlap, allows for a FOV range of 6-12 cm for coverage of a single carotid artery.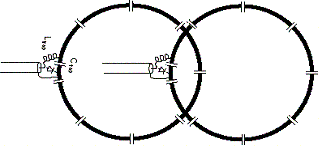 Figure 1:
Circuit schematic of the carotid artery phased array receive coil.
The coil is placed on the center of the carotid bifurcation as shown in Figure 2 (left). A saturation pad (filled with a non-protonated material) is used to minimize susceptibility effects around the jaw and to improve B0 homogeneity (on average a 100 Hz linewidth is achievable). The angiogram scout image shown in Figure 2 (right) displays the 8-10 cm region of the carotid for which the coil provides coverage.
Figure 2:

(left) Placement of the carotid artery phased array coil and (right) angiogram scout image of the carotid artery.
Future improvements to the 3 Tesla scanner include a 32-channel receiver capability that will provide opportunities to increase the number of individual coil elements and thus improve SNR.