The Athinoula A. Martinos Center for Biomedical Imaging at the Massachusetts General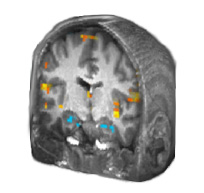 Hospital has been a leading force in acupuncture mechanism research for over a decade. In 2003 we were awarded NCCAM's "Center of Excellence for Research on Complementary and Alternative Medicine" (CERC, NCCAM PO1 -AT002048, PI: Rosen) for our Center, "Neuroimaging Acupuncture Effects on Human Brain Activity." The focus of our work thus far has been to explore central mechanisms of acupuncture by evaluating a distributed network of functionally, neurochemically, and neuroanatomically connected brain regions.
Our CERC grant is organized into three projects and two cores. Project #1, led by Dr. Kathleen Hui, conducts fMRI studies to confirm and elaborate the previously documented anti-correlated relationship between two brain networks during acupuncture. The two networks are the default mode network (DMN / limbic-paralimbic neocortical network) and the task-positive network. A second project, led by Dr. Vitaly Napadow, explores the hypothesis that acupuncture modulates chronic pain by affecting brain circuitry related to autonomic nervous system (ANS) outflow. The study will assess whether changes in clinical outcome associated with either sham or verum acupuncture are mediated by changes in ANS activity as documented

by physiological and imaging data. Finally, project #3, led by Dr. Randy Gollub, explores the influence of expectancy on brain response and observed clinical efficacy in a trial of acupuncture for knee OA. This project is a collaborative experiment with Project #2.
For the healing art of acupuncture to be fully integrated into mainstream medicine, it needs to be examined within the evidence-based framework of the scientific method. To attain this goal, all three funded projects, as well as other affiliated projects, use neuroimaging tools to investigate the possible brain pathways and circuitries involved in acupuncture, as it is applied to different diseases.


In The News
Researchers from the Center appeared in a recent Good Morning America segment: "Acupuncture for Kids." View a video of the segment here.