Learn more:
Home
People
Research
Participate
MEG/EEG
MRI/fMRI
Directions
Photo Gallery
Recommended Links
Lab Members Click Here
<!a href="cgi-bin/MKGuestBook.cgi"><!Message Board><!/a><!br>
For further information, please email us.
Directions & Parking
We are located on the first floor of the Martinos Center, MGH Building 149 on 13th Street in Charlestown, MA.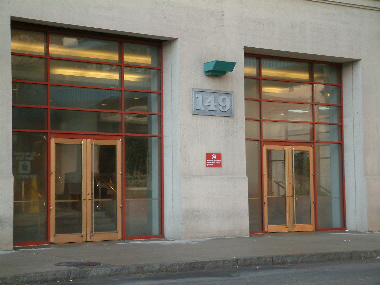 Directions
Click here for directions to the Martinos Center.
We also recommend you use Map Quest (look up directions to 149 13th Street, Charlestown, MA 02129).
Parking
The parking garage is located across the street from the East entrance. There is a pedestrian bridge to Building 149 accessible from the second floor of the garage. Parking will generally cost between $5-10, and only cash or check are accepted. Please keep in mind that you will be receiving a check in the mail for participating, so you will need to bring money if you plan to use the garage. Some metered spots are available, but finding an open meter can be difficult from 8 A.M.- 6 P.M.
There are two stations from which you can pickup a Partners shuttle bus--Charles/MGH on the red line and North Station on the green/orange lines. There is unfortunately no MBTA stop near the Center. The shuttle buses come by every 15 minutes on weekdays from 5:30 A.M. until 7:30 P.M., and every half hour after 7:30 P.M. until the last one at 1:30 A.M. On weekends, the shuttle runs on the half hour from 5:30 A.M. to 7:30 P.M. Click here for a detailed Partners shuttle schedule. The schedule refers to us as "MGH East."
To pickup the Partners shuttle:
From Charles/MGH: go through the MGH main hospital to the Jackson Building. Exit from the first floor of Jackson, turn to your right, and there on Blossom Street you can pickup the shuttle bus. Several Partners buses leave from this location, so make sure you get on the one that says "MGH/Navy Yard."
From North Station: the Partners shuttle picks up from the corner of Causeway and Canal Streets, either in front of or across Canal Street from Sovereign Bank, depending on the time of day. DO NOT get on the bus that is on the same side of Causeway Street as the Fleet Center. That bus is going back to the main hospital.