The Martinos Center and 'the New Science of the Brain' featured in National Geographic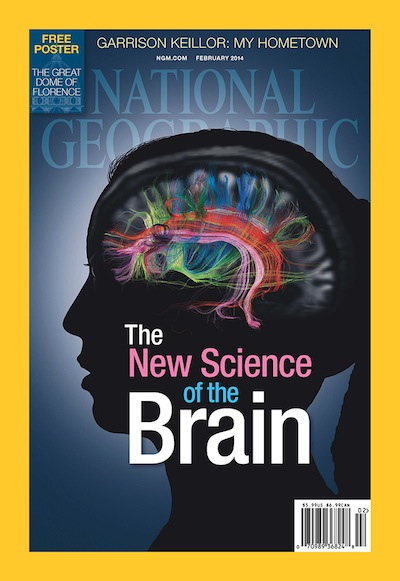 National Geographic Magazine spotlights work by Van Wedeen in its February issue.
In the cover story, "Secrets of the Brain," writer Carl Zimmer describes two visits to Wedeen's lab in the Martinos Center as part of a cross-country trip chronicling the ongoing revolution in understandings of the human brain. While there, he submits to a scanning session with diffusion spectrum imaging, an advanced imaging technique used in MRI tractography. This produces high-resolution maps of nerve fiber bundles carrying information from one part of his brain to another. "Wedeen paints each path a rainbow of colors," he writes, "so that my brain appears as an explosion of colorful fur, like a psychedelic Persian cat."
The article traces the history of our understandings of the brain—from Aristotle to the scientific revolution of the 17th century and on to the present day—discussing the remarkable work by Wedeen and others in the context of this history. Whereas for millennia we had no idea how the brain worked "or even what it was," Zimmer writes, today we are mapping it in ever more exquisite detail, giving us greater insight into the underpinnings of disorders of the brain, for example, and how we might address them.
The issue is available on newsstands or through the National Geographic app. You can also find the article here (login with a free account required).